Jackery 100W Solar Panel – Monocrystalline Solar Panel, stay charged with the power of the sun! With a high conversion efficiency of up to 23%, it's ideally suited for outdoor life and even unexpected power outages. The solar panel weighs only 9.1 lbs, it's lightweight, foldable, and with an easy-carry handle, making it more portable.
Jackery 100W Solar Panel
Jackery 100W Solar Panel Features
Easy Setup & Kickstand Included: The Solar Saga 100 features 2 kickstands that can be placed firmly on any surface ground. With just a few seconds of setup, you can start soaking energy from the sun for your Jackery power station. The TPE rubber handle allows you to carry it around easily when taking off-grid adventures.
Higher Energy Conversion Rate: Covered by monocrystalline silicon solar cells, the solar panel adopts multi-layered cell technology to generate energy from the sunlight and performs better with a higher conversion efficiency of up to 23% than other conventional panels.
Durable & Splash-Proof: The ETFE-laminated case is durable enough to extend the lifespan of the solar panel. It is IP65 water-resistant that will protect from water splashing (Do not place it under the rain, or soak it in water). The zippers on the pocket can hold the power cords, and cover the power port.
Compatible & Versatile: This solar panel is compatible with Jackery Explorer 300/500/1000/1500 power station (sold separately), ideal for off-grid camping and unexpected power outage. Solar Saga 100 features 1* USB-C(5V,3A) output port and 1* USB-A(5V, 2.4A) output port to charge 2 small devices directly.
Note: Jackery is now providing a new solar Saga 100X with no change in performance or functionality, but differentiates only in appearance.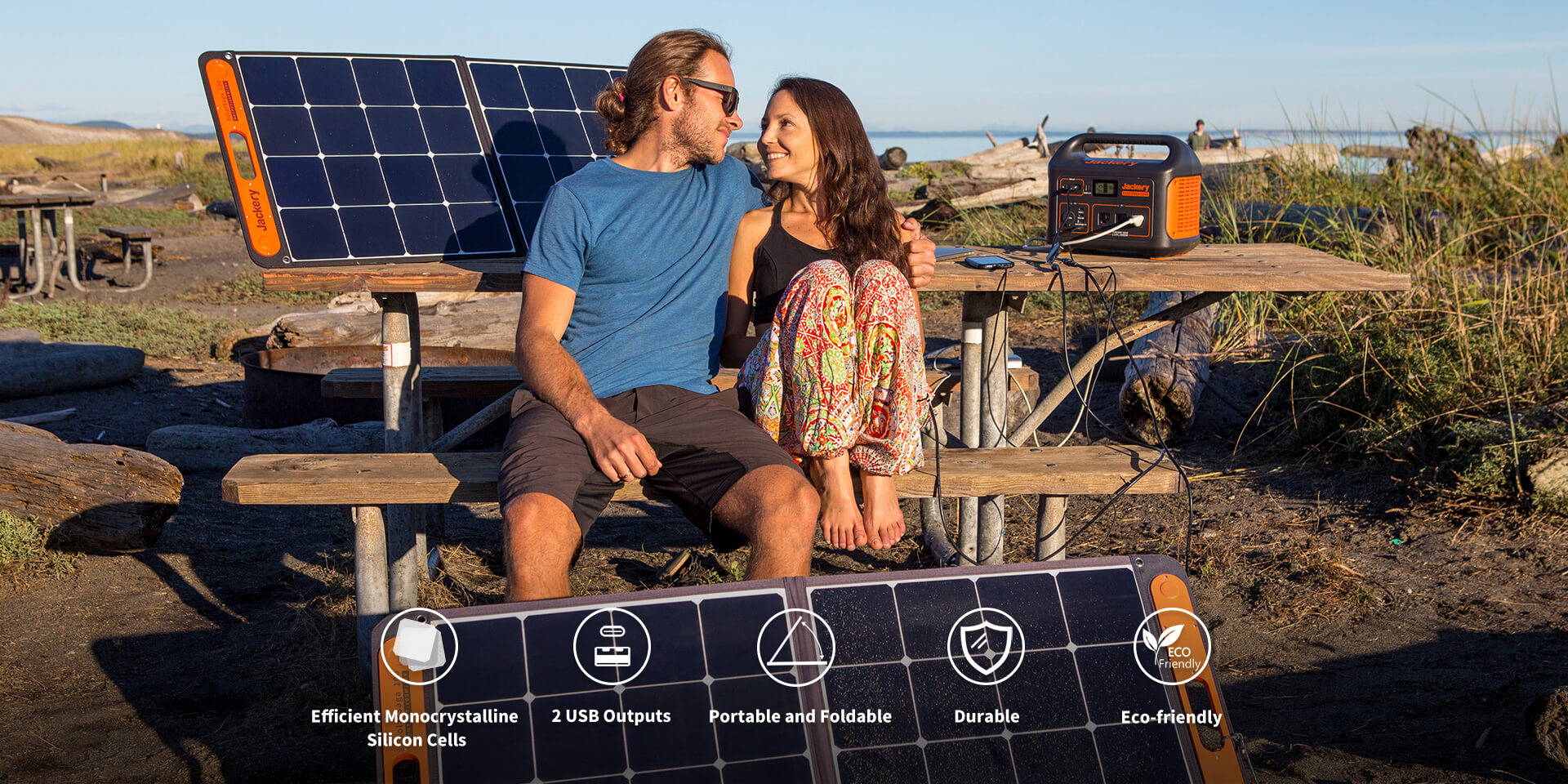 Four SolarSaga 100 for the Explorer 1500
Four SolarSaga 100W solar panels can quickly charge the Explorer 1500 (not included)within 4 hours(from 0-80%) by connecting together with two Solar Power Cable (package included).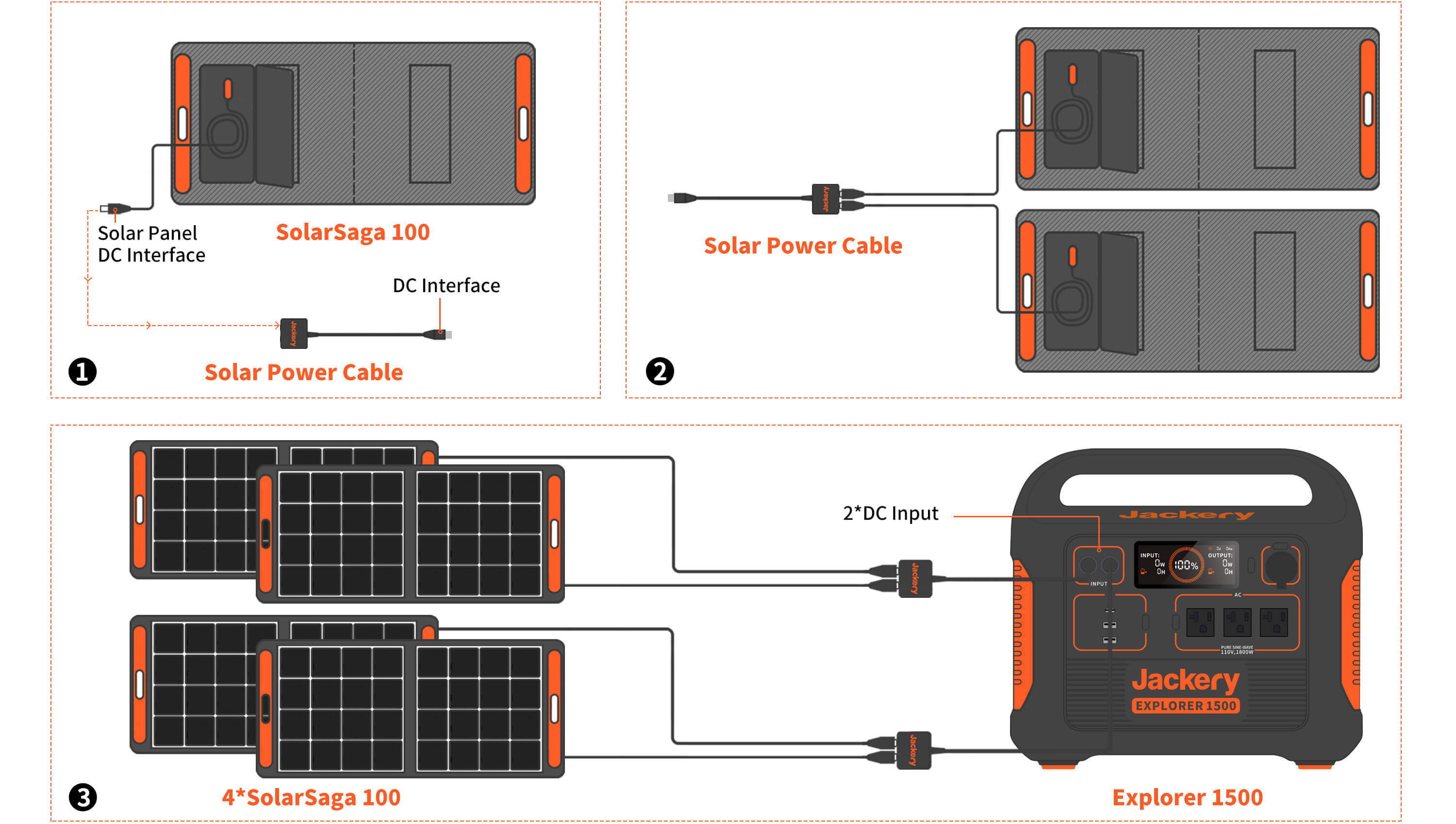 Solar recharging steps:
Connect the first panel – find the "DC interface" on the back of SolarSaga 100 and plug it into the solar power cable;
Connect the second panel – follow step 1;
Connect the solar panels and the solar power cable with the Explorer 1500's DC input.
Two SolarSaga 100 for the Pro Level Explorer 1000
Two SolarSaga 100W solar panels can quickly charge the Explorer 1000(not included)within 8 hours by connecting together with a SolarSaga Y Parallel Cable (package not included).
Solar recharging steps:
Find the DC interface on the back of SolarSaga 100;
Connect the DC interfaces of 2*SolarSaga 100 with the Y Parallel Cable;
Connect the Y Parallel Cable with the Anderson input of Explorer 1000.
Jackery 60W Solar Panel Specifications
| | |
| --- | --- |
| Weight: | 10.33 lbs (4.69 kg) |
| Dimensions (folded): | 24 x 21 x 1.4 in (610 x 535 x 35 mm) |
| Dimensions (unfolded): | 48 x 21 x 0.2 in (1220 x 535 x 5 mm) |
| Operating Usage Temperature: | 14-149F (-10-65℃) |
| Warranty: | 24 Months |
| Peak Power: | 100W |
| Cell Efficiency: | 23% |
| Power Voltage: | 18V |
| Power Current: | 5.55A |
| Open Circuit Voltage: | 21.6V |
| Short Circuit Current: | 6A |
| USB-A Output and USB-C Output: | 5V, 2.4A, and 5V, 3A |