Jackery 200W Solar Panel – IP67 grade waterproof, prevent the intrusion of foreign objects, dust, and short-term immersion under water. Maximize solar input power and obtains very high light transmittance to increase recharging speed.
Jackery 200W Solar Panel
Jackery 200W Solar Panel Features
Paired with Jackery Explorer 2000 PRO: It takes 2.5 hours to fully charge a Jackery Portable Power Station Explorer 2000 PRO via 6 SolarSaga 200. The portable solar panel is additionally compatible with other Jackery power stations.
Excellent Conversion Efficiency: Advanced solar cells on the solar panel provides a higher conversion efficiency of up to 24.3%, outperforming comparable solar panels – producing more power under similar conditions.
Instant Setup: With a few seconds to set up, the solar panel stands firmly and securely thanks to its 3 kickstands. The recommended angle ensures optimum absorption of the sunlight, making it the perfect companion for outdoor travel.
Convenient Carrying: A practical carrying bag is included for easy transport. Magnetic pads on the solar panel allow the solar panel to be folded up tightly and carried on your favorite off-grid journeys.
Built to Last: The ETFE-laminated case ensures the solar panel is durable enough for a prolonged lifespan. Additionally, the
IP67 Waterproof Rating allows it to withstand harsh weather.
5-Year Warranty: A 3-year warranty on regular purchases, plus an additional 2-year extension on your warranty when ordering from our Official Website.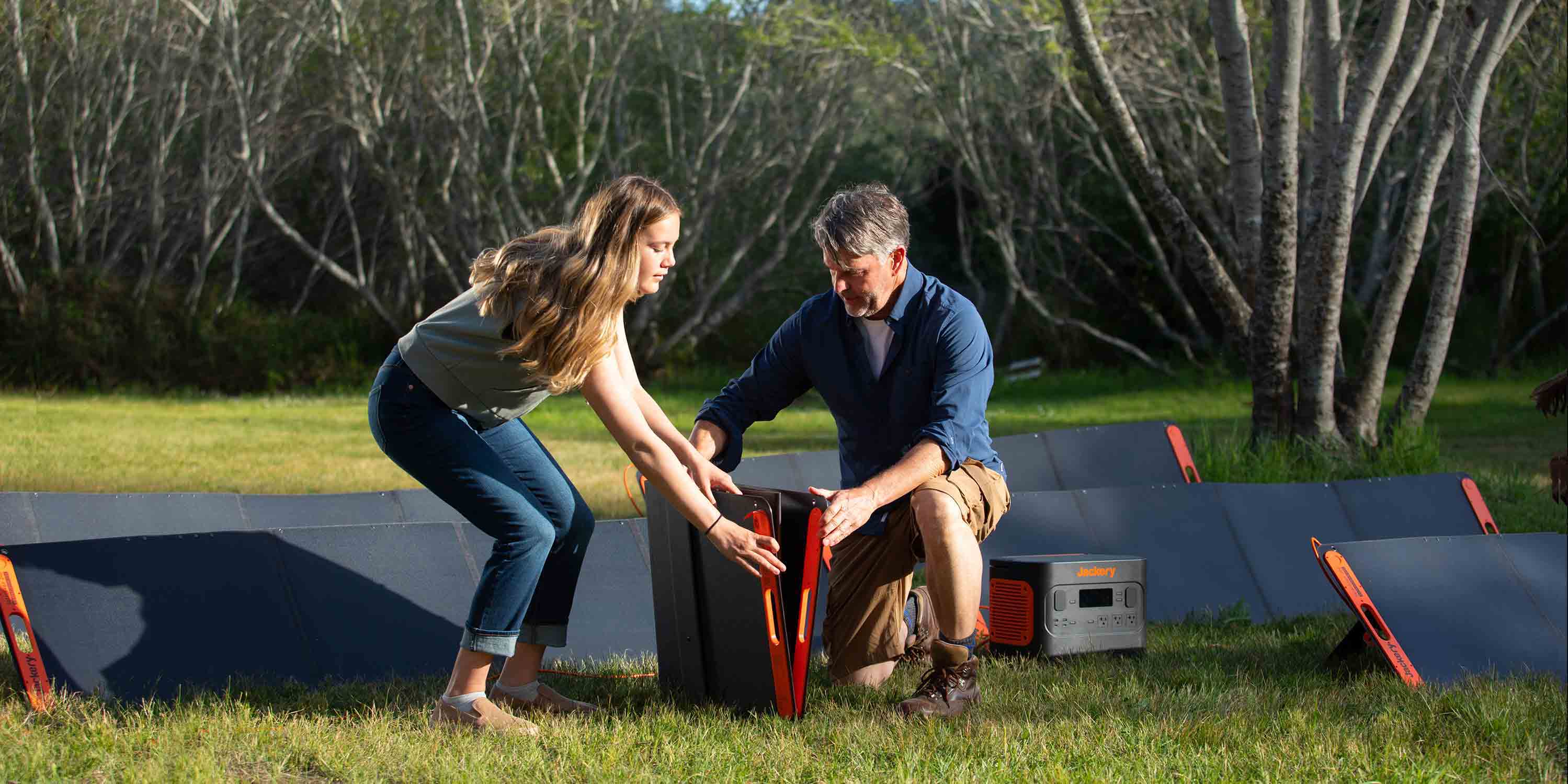 Included In The Box
1* SolarSaga 200 Solar Panel
9.8 inches DC Charging Cable
1* Carrying Bag
1* User Manual
Jackery 60W Solar Panel Specifications
| | |
| --- | --- |
| Weight: | 8.0±0.3Kg |
| Dimensions (folded): | 540 x 615 x 40 mm |
| Dimensions (unfolded): | 540 x 2320 x 25 mm |
| Operating Usage Temperature: | -10-65℃(14-149°F) |
| Warranty: | 36 Months |
| Peak Power: | 200W |
| Cell Efficiency: | 24.3% |
| Power Voltage: | 18V |
| Power Current: | 11.12A |
| Open Circuit Voltage: | 23.2V |
| Short Circuit Current: | 11.76A |
| USB-A Output and USB-C Output: | 5V, 2.4A, and 5V, 3A |
FAQs
What kind of battery can be charged by these solar modules?
Jackery Explorer series
Sealed lead-acid battery
Colloidal lead-acid batteries
The open lead-acid batteries
How to clean the solar surface?
Dust and dirt on the surface should first be removed using a soft brush. Use a damp cloth to wipe the surface of the solar module to remove any remaining dust or dirt. Any guano or other adhesive should be removed as soon as possible from the solar surface to avoid a reduction in performance.
Are the foldable solar modules waterproof?
Yes, the product meets IP67 waterproof, which maximizes the lifespan of the module, it should not get wet.