Lion Safari UT 1300 is the latest in Lithium Battery technology. It replaces traditional deep cycle lead acid batteries with the safest and longest lasting Lithium Iron Phosphate batteries. It has 1344Wh, 105Ah, and 12.8V all at only 23 lbs. And it comes with a limited lifetime warranty. It's redefining the battery industry!
Lion Safari UT 1300
There are a lot of things to love about the Safari UT 1300: its lightweight for easy use and transportation, its long lifespan to camp 2X longer, and its ability to recharge from renewable sources. It will provide renewable energy for years to come.
Lion Safari UT 1300 Features
Weighs Less – At only 23 lbs, and a standard group 24 size (small footprint), the Safari UT 1300 is about 1/2 the weight of traditional batteries yet exceptionally powerful.
Safety – Made from Lithium Iron Phosphate, it's the safest lithium battery on the market. You can use it indoors or outdoors. It doesn't use potentially volatile chemistry.
Lasts Longer – Long-lasting life cycles at 3,500+ using the full depth of discharge (DOD) and still has the power to spare. It can hold a charge for up to 2 years.
Renewable Solar Batteries – Use the power of the sun to fully recharge the UT 1300 in as little as 7 hrs. That way you can stay as long as you want.
Camp 2X As Long – Standard lead acid batteries give you 50% usable energy or Ah. The Safari UT 1300 gives you 100% usage or all 105Ah. You'll be able to go camping 2X as long on a single charge as lead acid.
Expandable for More Power – One Safari UT 1300 has 150A continuously and a 900A peak discharge. If you need more, they can be connected in parallel or in series to get even energy storage and more power.
Zero Maintenance – No acid or water. No trickle charging. No mess. The Safari UT 1300 just works, day in and day out.
Lifetime Warranty – The Safari UT 1300 comes with a limited lifetime warranty and is the last battery you'll probably ever need. Using Lithium Iron Phosphate technology, it can be drained and recharged over 3,500 times, years and years longer than Lead Acid batteries.
Environmentally Friendly – The Safari UT 1300 produces zero emissions or carbon footprint during use, emits no greenhouse gases, and does not damage the environment. It's good for you and the planet.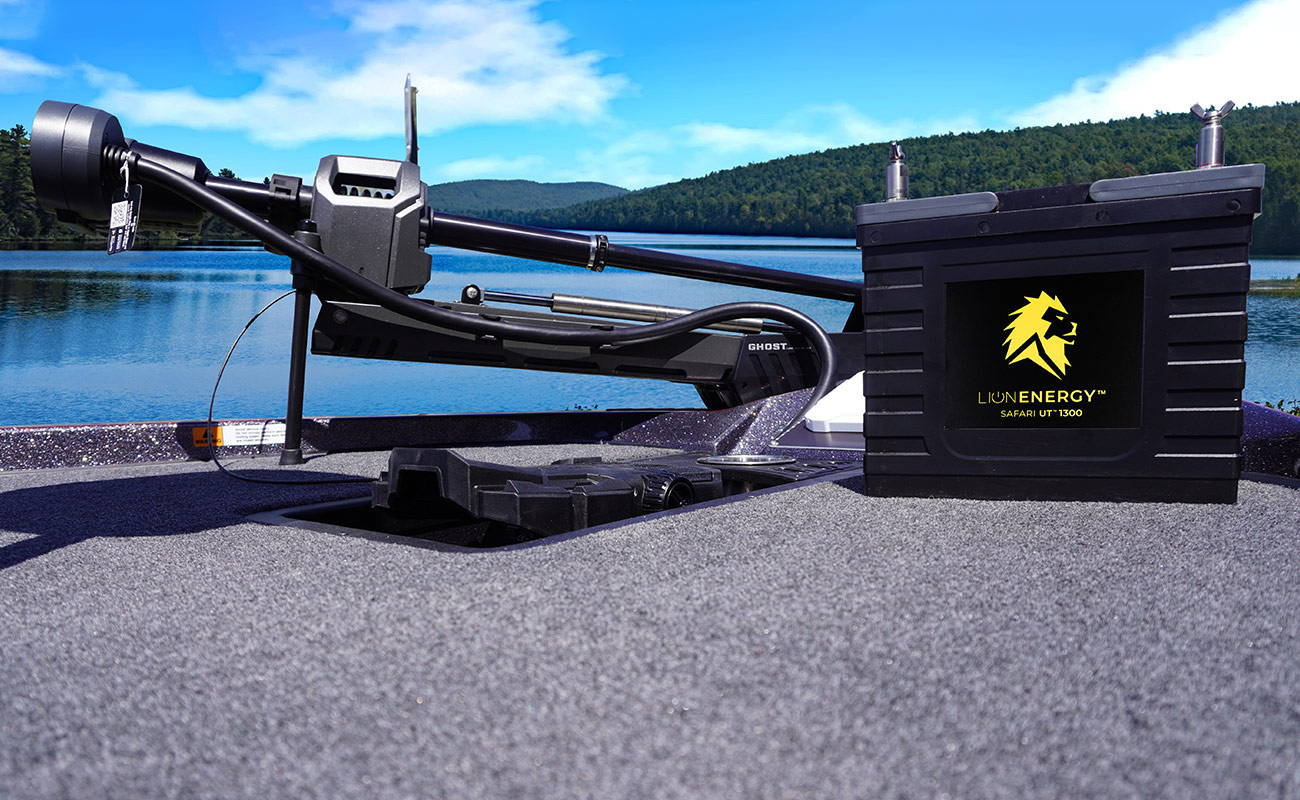 The Safari UT series all have an internal Battery Management System (BMS) that acts as a safety net to shut down the battery if it is out of parameters. This prevents the battery from overcharging or discharging as well as operating outside of the temperature range.
How Lion Safari UT 1300 Stacks Up To Others
The Safari UT 1300 is the lightest Lithium Iron Phosphate battery in its class by more than a bunch. This makes a HUGE difference when you're looking at overall weight capacity for your RV, Trailer, or outdoor rig.
Because we use prismatic cells vs cylindrical cells, we can pack more power in a smaller unit.
The Safari UT 1300 has a limited lifetime warranty. It may be the last battery you'll ever buy. Everyone else offers only a 3 to 11 years warranty and is often prorated.
When you look at the price per watt basis and the extended life and usage capacity, the Safari UT 1300 gives you outstanding performance.
ITEM
LION UT 1300
Battleborn 12V
Expert Power
Dakota Lithium

Continuous Discharge Rate

Lithium Iron Phosphate
Li-ion LiFePO4

Lithium Iron Phosphate
Li-ion LiFePO4

Lithium Iron Phosphate
Li-ion LiFePO4

Lithium Iron Phosphate
Li-ion LiFePO4

Dimensions LxWxH (inches)

Charging / Operating Temp

32 to 113° F / -4 to 131° F

32 to 113° F / -4 to 135° F

32 to 140° F / -4 to 140° F

32 to 120° F / -20 to 120° F